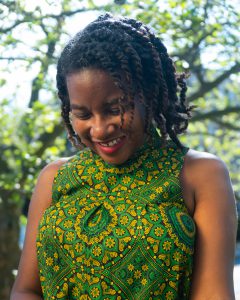 Mariahadessa Ekere Tallie is an interdisciplinary artist and a PhD candidate in the Theatre Arts and Performance Studies program at Brown University. Her dissertation centers on "Black Otherwises" in the work of Ntozake Shange and weaves together performance studies methodologies, archival research, Black feminist theory, and African-based spirituality.
Tallie is also author of the award-winning children's book Layla's Happiness (Enchanted Lion Books), the poetry collections Strut (Agape Editions) and Karma's Footsteps (Flipped Eye), and Dear Continuum: Letters to a Poet Crafting Liberation (Grand Concourse Press).
Tallie's poetry is the subject of the film "I Leave My Colors Everywhere." She is also featured in "Tell Me Another Story" a film about the importance of inclusivity in children's literature.
Her first academic publication, The Unwieldy Otherwise: Rethinking the Roots of Performance Studies in and through the Black Freedom Struggle co-authored with Leon Hilton was recently published in the journal Performance Matters.
Tallie is the mother of three galaxies who look like daughters.