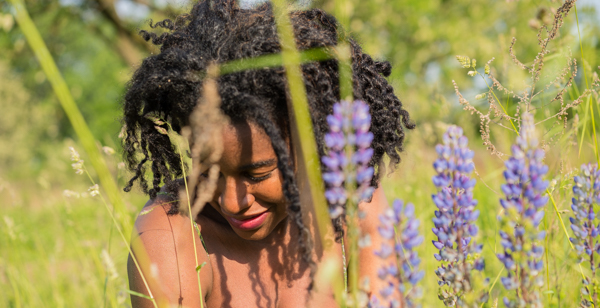 (You can download Ekere's full CV here with an exhaustive list of all literary workshops, herbalism workshops, academic conferences and presentations, anthology publications, selected articles and poetry performances.)
EDUCATION
Master of Fine Arts, English and Creative Writing, Mills College, January 2002.
Bachelor of Arts, Mass Communication, Clark Atlanta University, June 1996.
AWARDS & HONORS
Pushcart Prize Nomination, 2017.

Institute for the Recruitment of Teachers Associate, 2017.

New York Foundation for the Arts Artist as Entrepreneur Boot Camp for Artists of Color, 2017.

Dear Continuum: Letters to a Poet Crafting Liberation

on "A Seat at the Table" syllabus, 2017.

Dear Continuum: Letters to a Poet Crafting Liberation

Split This Rock! Books We Love, 2015.  

The Missouri Review

Audio Poetry Contest Runner-Up, 2014.

Queens Art Express, 2013.

Queens Council on the Arts Grant. "Osain's Children," 2010.

Fundacion Valparaiso Residency, 1999.
 PUBLICATIONS
Books
Layla's Happiness Book

. Brooklyn, NY: Enchanted Lion Books (forthcoming Fall 2018).

Strut

. Los Angeles, California: Agape Editions (forthcoming Spring 2018).

Dear Continuum: Letters to a Poet Crafting Liberation

. Bronx, NY: Grand Concourse Press, 2015.

Karma's Footsteps

. London, UK: Flipped Eye, 2011.
Works in Anthologies
"Gap Toothed Woman."

The

Golden Shovel Anthology.

Kahn, Shankar, Smith, Eds

,

Fayetteville

:

The

University of Arkansa Press

,

2017.

"Unheeled."

The Political Punch

. Frazier-Foley and Smith, Eds, Knoxville: Sundress Publications, 2016.  

"The Brazen Hussy Blues."

Circe's Lament: Anthology of Wild Women Poets

. Spriggs and Stoykova

Klemer, Eds. Lexington: Accents Publishing, 2016.

"Paper Bag Poems," "Global Warming Blues," "Sunday," and "Possible."

The BreakBeat Poets: New

American Poetry in the Age of Hip-Hop

. Coval, Lansana, Marshall, Eds. Chicago: Haymarket

Books, 2015.

"We Still Don't Know."

New Rain: 35th Anniversary Anthology.

Gary Johnston, Ed. Bronx: Blind

Beggar Press, 2013.

"Oshun Breaks it Down" and "Mami Wata"

Black Mermaids: In Vision and Verse.

Torreah Washington,

Ed. Exhibition Catalogue, 2012.

"My Great-great Grandmother Talks to Michelle Obama."

Go, Tell Michelle: African American Women 

Write to the New First Lady.

Brooks-Bertram, Nevergold Eds. Albany: State University of New 

York Press, 2009.

"

On Solace

" Beats, Rhymes, and Life: What We Love and Hate About Hip-Hop

. Eds. Jasper, Womack,

Moon/ Eds. New York: Broadway Books, 2007.

"Note From a Loving Wife."

Revenge & Forgiveness: An Anthology of Poems

Ed. Patrice Vecchione. 

New York: Henry Holt, 2004.

"Height."

The Body Eclectic

 Ed. Patrice Vecchione. New York: Henry Holt, 2002.

"Raindrop Women."

Beyond The Frontier: African-American Poetry for the 21

st

Century.

E. Ethelbert

Miller Ed. Baltimore: Black Classic Press, 2002.

"Why I Still Write."

The Book of Hope

. Birgitta Jonsdottir, Ed. Beyond Borders, 2002.

"New Recipe" and "I was There Once."

Role Call

. Ali, Bashir, Medina, Eds. Chicago: Third World

Press, 2002.

"Medusa."

Bum Rush The Page: A Def Poetry

Jam, Eds. Medina, Rivera, New York: Random House,

2001.

"Barefoot Stroll," "Forced Entry," "Evolution," "Elemental Sounds," "Sometimes," "Recollect,"

"Domino Effect," "Distance is Destination," "Serenade," and "A Woman's Poetic"

Listen Up! 

Zoe Anglesey, Ed. One World/Ballantine, 1999.

"Karma's Footsteps."

Catch The Fire!!!

A Cross-Generational Anthology of Contemporary African 

American Poetry

Derrick Gilbert, Ed. Penguin/ Putnam, 1997.