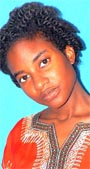 Back to the homepage
Featured poets? It could be you...
Niama Leslie Williams, USA - Jawanza Phoenix, USA - Bianca Steward, USA - Lynne Thompson, USA - Leonor Maria Irarrázaval Correa, Chile - Joel Rivera, USA - Patricia Foster, UK - Iriel Sayeed, USA - Carolyn A. Butts, USA - Sarah O'Gorman, The Netherlands - Yahminah Orr, USA - Babs Gons, The Netherlands
It could be you...
To be considered for featured poet or to be added to Ekere's e-nnouncement list you can contact me by email.
© Copyright Ekere Tallie. All rights reserved. Reproduction in part or in whole without permission is expressly prohibited.